Tucked away from the hustle and bustle of the world's more popular tourist destinations, Labuan Jambu in Sumbawa, Indonesia, is a hidden gem that offers travelers an unparalleled experience of nature, culture, and adventure. Situated in the eastern part of Sumbawa Island, Labuan Jambu is a small, picturesque coastal village that has managed to maintain its authenticity and charm. In this article, we'll explore the various aspects of this beautiful place that make it a must-visit destination for any traveler looking for an off-the-beaten-path experience.
Natural Beauty
Labuan Jambu's coastline boasts a stunning array of pristine beaches, crystal-clear waters, and lush, green vegetation. The warm, turquoise waters are ideal for swimming, snorkeling, and diving, offering visitors a chance to experience the rich marine life that thrives beneath the surface. The area is also home to a variety of bird species, making it a great spot for birdwatching enthusiasts.
The village is surrounded by lush, green hills, providing an opportunity for visitors to explore the scenic landscape through hiking or cycling. One of the most popular trails leads to a beautiful waterfall, a perfect spot to take a refreshing dip and enjoy the peaceful atmosphere.
Local Culture
The village of Labuan Jambu offers a unique insight into the traditional way of life in Sumbawa. The friendly locals are always willing to share their stories and customs with visitors, providing a rich cultural experience. The traditional Sasak architecture, characterized by its unique roof design made of alang-alang grass, can be seen throughout the village. A visit to Labuan Jambu will also offer a chance to taste the delicious local cuisine, including Ayam Taliwang, a spicy grilled chicken dish, and Pelecing Kangkung, a water spinach salad.
Sustainable Tourism
One of the most commendable aspects of Labuan Jambu is its focus on sustainable tourism. The village has made a conscious effort to preserve its natural resources and minimize the environmental impact of tourism. Many of the accommodations in the area are eco-friendly, using renewable energy sources and implementing waste management systems. Additionally, local tour operators are committed to responsible practices, ensuring that the village's natural beauty remains unspoiled for generations to come.
Adventure Activities
For those looking for a little more excitement, Labuan Jambu offers a range of adventure activities. The coastline's crystal-clear waters provide a perfect setting for snorkeling and diving, where visitors can explore the vibrant coral reefs teeming with marine life. The area is also a popular surfing destination, with several breaks suitable for both beginners and experienced surfers.
The surrounding hills and forests offer excellent opportunities for trekking and mountain biking, allowing visitors to fully immerse themselves in the beauty of Sumbawa's landscape. For a truly unique experience, visitors can even try their hand at traditional fishing with the help of local fishermen.
Off the Beaten Path
One of the most appealing aspects of Labuan Jambu is its relative seclusion. The village has managed to maintain its unspoiled charm, largely due to its location away from the main tourist hubs. This seclusion provides visitors with a rare opportunity to truly disconnect from the modern world and experience a simpler way of life. The lack of crowds also ensures that you'll have plenty of space to enjoy the pristine beaches and stunning landscapes in peace.
Community-based Tourism
Labuan Jambu has embraced community-based tourism, meaning that the local community is actively involved in and benefits from the tourism industry. Many accommodations and activities are owned and operated by the villagers, ensuring that the profits stay within the community and contribute to local development. This approach also allows for a more authentic travel experience, as visitors have the chance to interact with the locals and learn about their daily lives, traditions, and customs.
Marine Conservation Efforts
Recognizing the importance of preserving the rich marine biodiversity of the area, Labuan Jambu has implemented various marine conservation initiatives. These efforts include the establishment of marine protected areas and the promotion of responsible diving and snorkeling practices. By taking part in these conservation efforts, visitors can directly contribute to the protection and preservation of the delicate coral reefs and marine ecosystems.
Labuan Jambu may be off the beaten path, but it is relatively easy to access. The closest airport is Sultan Muhammad Kaharuddin III Airport in Sumbawa Besar, which is connected to major Indonesian cities such as Jakarta, Bali, and Lombok. From the airport, it's a scenic drive to Labuan Jambu, which can be arranged through local transportation providers or by renting a car. Alternatively, there are also public transportation options such as buses and shared minibusses (angkot) that can take you to the village.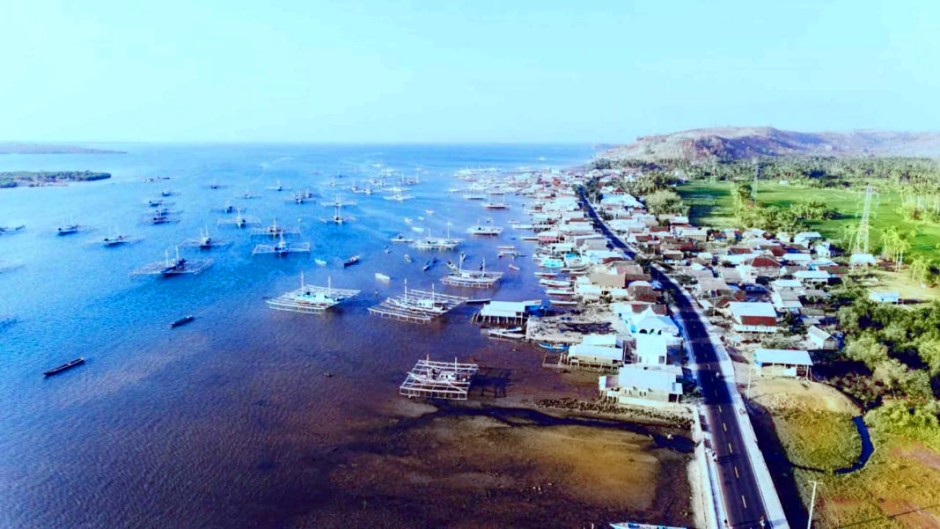 When to Visit
The best time to visit Labuan Jambu is during the dry season, which typically runs from May to September. During this time, the weather is warm and sunny, with little rainfall, making it ideal for outdoor activities such as swimming, snorkeling, and hiking. However, even during the wet season, which runs from October to April, the rain is usually short-lived, and there are still many sunny days to enjoy the beauty of the village and its surroundings.
Labuan Jambu, with its natural beauty, rich culture, and commitment to sustainable tourism, is a destination that should be on every traveler's bucket list. This small coastal village in Sumbawa offers an unforgettable experience of Indonesia's lesser-known gems, providing a perfect escape from the stresses of modern life. Whether you're looking for relaxation, adventure, or cultural immersion, Labuan Jambu has something for everyone.
Getting There
Fly into Lombok International Airport (LOP) or Ngurah Rai International Airport (DPS) in Bali, Indonesia. These are the closest international airports to Sumbawa.
From Lombok, you can take a public ferry or speedboat to reach Sumbawa. The ferry operates from Labuhan Lombok in East Lombok to Poto Tano in West Sumbawa. The ferry trip usually takes around 1.5 to 2 hours.
From Bali, you can either fly to Sultan Muhammad Kaharuddin III Airport (SWQ) in Sumbawa Besar or take a combination of a bus and ferry to reach Sumbawa. The bus-ferry route goes from Padang Bai in Bali to Lembar in Lombok, and then from Labuhan Lombok to Poto Tano in Sumbawa.
Once you arrive in Sumbawa, you can rent a motorbike, car, or hire a driver to take you to Labuan Jambu. Be sure to ask locals or use GPS navigation to help you find your way.
Please note that transportation schedules and services might change, so it's essential to confirm the details with local providers before making any travel plans.